Special Book Signing at Mill Valleys Sweetwater on September 18
One of the Bay Area's top rock photographers for forty-five years collects his work in an exclusive book, Blue Collar Photographer by Pat Johnson to be released September 19, 2022.
Pat Johnson served as the official shooter for the Bay Area Music Awards (Bammies), KMEL Summer Jan and Sonoma's B.R. Cohn Fall Music Festival. He also had a long professional and personal association with the rock band, Journey. His photography has appeared in Rolling Stone, People, Time and Billboard magazines and has graced dozens of CD and album covers, including Elvin Bishop, Journey, Ian Hunter and UFO.
"Pat Johnson's a hell of a fella – a photo session with him is a ton of fun. He puts you in the mood and he always comes up with some real cool shots." — Elvin Bishop, Paul Butterfield Blues Band & Elvin Bishop Band
Blue Collar Photographer, available from www.patjohnson.com and Amazon, captures a lifetime of shooting music and musicians – a smoke enshrouded Grace Slick, a candid and relaxed David Bowie, a silhouette framed by a full moon of Yoko Ono, a scowling Dennis Wilson of the Beach Boys. These iconic shots helped define the oeuvre of the musician and an entire era of classic rock music.
Pat arrived in San Francisco in 1972 and quickly established himself as a premiere music photographer, shooting concerts, studio portraits, radio show promos, and record labels. He worked with every known Bay Area rock band and shot all the greats as they came through town. Pat's work is currently housed in the Rock and Roll Hall of Fame.
"Pat's a bad ass behind the lens! Every time I see a shot from Pat I think, 'Wow! Who took this picture?'" — Sammy Hagar
 "Pat Johnson has done a fine job with this book. It's a near-perfect reflection of who he is and what he's meant to the music scene and industry. And it's an excellent portrait of what he remains: a true Blue Collar Photographer."
Ben Fong-Torres, former senior editor, Rolling Stone.
Pat will host a Blue Collar Photographer book release party with introduction author Joel Selvin from noon-3:00 p.m. on Sunday, September 18, 2022 at Sweetwater Music Hall, 19 Corte Madera Ave., Mill Valley.
Media:
Michael Coats (707) 235-6203 or Michael@coatspr.com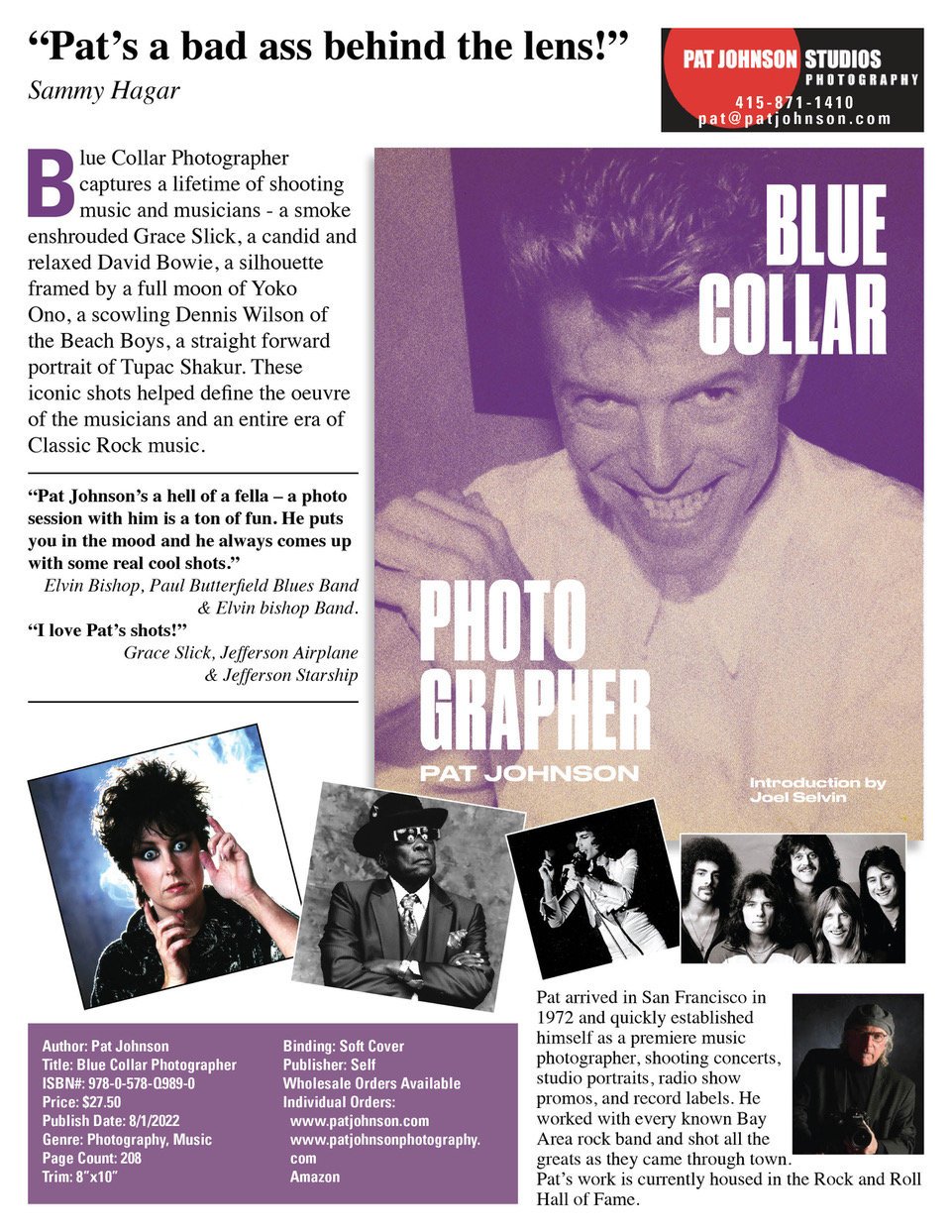 Contact: Pat Johnson
Phone: (415) 871-1410
Email: pat@patjohnson.com